Up Draft Hot Filtration Technology
It is newly developed modified up-draft hot clean gasification technology, has more advantages rather than old traditional gasification technology. It is totally TAR and phenolic water free process. This technology gives both unique features of COLD and HOT gasification technologies, will give precise automation and more energy efficient producer gas. Waste TAR is now used as TAR vapor (AS A FUEL) in kiln or furnace will give extra energy, causes less fuel consumption and high production ratio.
UP DRAFT HOT FILTRATION
Aim to utilize direct clean and hot gas.
Tar is remaining in gaseous form and utilize in furnace as fuel with producer gas (coal gas).
Outlet temperature of gas up to 300-450'c
Utilization of Hard Coal as filter media for cleaning of HOT gas which can be re-utilize in Gasifier Shell with fresh feed coal easily.
Tar and phenolic water free producer gas will ease The process and no handling of waste water and tar.
No gas scrubbing so no fresh water required hence no waste water generation.
No waste water so no extra evaporation required, will reduce fuel cost.
Less space, less equipment, less electricity high energy efficient technology
Hot gas and tar in vapor form increase the gasifier efficiency ( it reduces 20-25% fuel consumption)Ultimately reduces the green house emission.
No by product generation and no residue left out ( zero discharge)
Completely environmental friendly technology
Process control with fully automatic scada control system, totally user friendly process.
Low capital investment
Potential saving of huge natural resources.
Merits and comparison.
Merits and comparisons of HOT gas filtration system & cleaning gasification technology with updraft wet cleaning gasification technology.
| SR.NO. | FEATURES | UPDRAFT WET CLEANING TECHNOLOGY | NEWLY HOT GAS FILTRATION AND CLEANING SYSTEM GASIFICATION TECHNOLOGY |
| --- | --- | --- | --- |
| 1 | Additional energy require | | |
| 2 | Risk of explosion | | |
| 3 | Residue generation(Waste Water, Coal Tar) | | |
| 4 | Need to disposal of residue | | |
| 5 | Require complex additional equipment(waste water evaporator, cooling tower & tar disposal & ESP) | | |
| 6 | Skill manpower for operation | | |
| 7 | Energy efficiency | Low | Very high |
| 8 | Equipment, maintenance and operation cost | High | Very Low |
| 9 | Environment friendly, complete zero discharge | No but need precise attention for residue disposal | Almost zero discharge |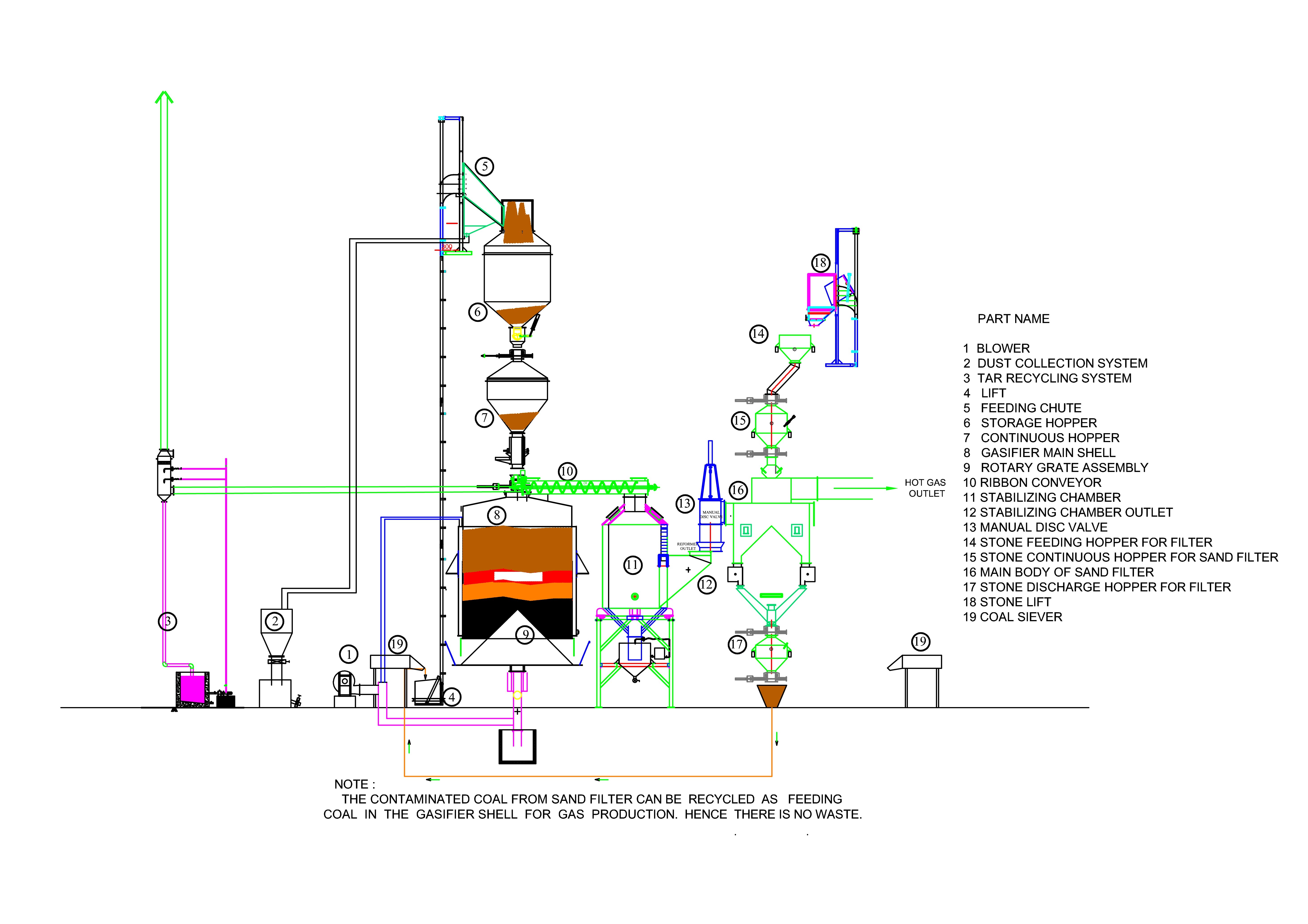 Application
Ceramic Industry
Glass Industry
Chemical Industry
Special Alloys
Aluminium Industry
Special Glass Industry
Galvanized Wire Industry
Steel Pellet Rotary Dryer
Paper Industry
Cement Industry
Hot Gas Filtration Gasification technology